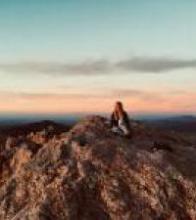 About Me
Educational Background:
I graduated from Minnesota State Community and Technical College in Moorhead, MN, class of 2017. Since then, I've taken online Early Childhood Development classes. I'm entering my 3rd year of interpreting overall, and first year of being at PHS. :)
Biographical Sketch:
Hi, I'm Brittney! I absolutely love hiking, being outdoors, rock climbing, and trying new things. Over the summer I hiked my first 14er (Pikes Peak)! :) I'm so looking forward to getting to know the staff at PHS. Here's to an awesome year!
Favorite Quote:
"Love is never wasted" ~ Teri Marsh
About My Classroom:
I'm a Sign Language Interpreter, so I don't have a classroom of my own! At my desk in the basement, you'll find books, my little plant, and lots of pictures that make me happy. I also have the pleasure of popping into lots of classrooms and getting to know the teachers that way!