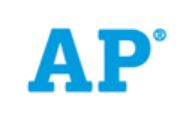 The Advanced Placement (AP) program offers college level courses for students in grades 10 through 12 and is an incredibly academically challenging and rigorous program. Filling over 600 seats in sixteen different subject areas, the AP Program at Poudre engages students in college-level curriculum in subjects ranging from AP United States History to AP Chemistry.
PHS AP teachers are highly qualified to teach these collegiate level courses and many of them also teach IB courses at Poudre. Poudre High School students receive university-level instruction, utilizing the same text and materials as their counterpart courses at a university. Not only are Advanced Placement courses are an exceptional college preparatory opportunity available to high school students, but students may also earn university credit toward a bachelor's degree. Research has consistently confirmed that students who complete AP courses are well prepared for the university challenge and are highly successful in their quest to obtain a college degree. Each May, students can take national AP tests. Their scores on these tests may qualify them for college credit at the colleges or universities they go on to attend.
The following courses are offered at PHS:
AP Biology
AP Calculus AB
AP Calculus BC
AP Chemistry 
AP Computer Science Principles
AP English Language and Composition
AP English Literature and Composition
AP French
AP German
AP Human Geography
AP Psychology
AP Spanish
AP Statistics
AP Studio Art
AP US Government
AP US History
Every year, the College Board, the company that endorses the Advanced Placement Program, honors students who have scored exceptionally well on national Advanced Placement Examinations. The AP Scholar Awards website offers the criteria for the various categories of the AP Scholar Awards.
This chart outlines the different attributes of Advanced Placement (AP) and the International Baccalaureate Diploma Program (IBDP).
AP Program Coordinator: Greg Piccolo, PHS Counselor