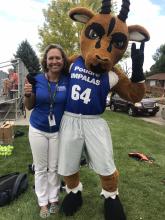 About Me
Educational Background:
I have been teaching since 2001 and am excited to be here at Poudre. I love languages. I speak Spanish and taught myself French and Portuguese. My other skill is that I can also read palms. I teach levels 1 and 3 Spanish. I am the head boys tennis coach. Previously, I taught Spanish and History for 18 years at Wellington Middle School. (Go Eagles!) I am married with two college age daughters who attended Poudre. During my free time, I play tennis, telemark ski at Cameron Pass, read, play euchre and hearts, run, row and would like to learn how to play the guitar.
Biographical Sketch:
I attended the University of Vermont and received my BA in Spanish and Political Science. I attended Villanova University School of Law and received my Juris Doctorate in 1993. I moved to Fort Collins in 1993, clerked for a district court judge and opened my own law practice. I represented children and decided that I wanted to do more with kids so I became a teacher.
Favorite Quote:
"One language sets you in a corridor for life. Two languages open every door along the way." Frank Smith
Courses Taught:
Spanish level 1
Spanish level 3
About My Classroom:
I teach periods 1,2,3, and 4 in room 106.