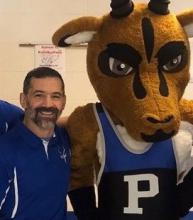 About Me
A proud Impala, Mr. Weissman has been teaching at Poudre since 2004. Growing up in New York, Mr. Weissman spent his childhood "messing about in boats". This eventually led to rewarding career in the U.S. Merchant Marine Service, where he served for eleven years. His work aboard ships enabled Mr. Weissman to travel around the world, see amazing sights, and meet lovely and interesting people such as his wife, Karen. Mr. Weissman has enjoyed working in a variety of engineering and construction fields. A wandering career has carried he and his wife from Alaska, Eastern Canada, and the South Pacific, to a more settled life with a dog, two cats, six chickens and a cozy home in sun-drenched Colorado. After attending the University of Michigan, where he studied Mechanical Engineering and competed on the varsity wrestling squad, Mr. Weissman received his teaching credentials from Colorado State University. When not helping students design and build super-amazingly cool stuff, Mr. Weissman enjoys coaching wrestling, competing in ultra-distance endurance events, and hiking, biking and camping in the beautiful mountains with his beautiful wife.
Career & Technical Education (CTE) helps students make connections between core academics and how that knowledge applies in the real world.
CTE programs at Poudre include partnerships with local businesses, focus on the employment needs of our region, and help students explore the wide array of careers available to them.
Students enrolled in CTE Programs have graduation rates of more than 90%, whereas the graduation rate for high school students overall is just under 75%. (Association for Career and Technical Education {ACTE}, n.d. 2017)
The data show that reading and math scores of CTE students are significanly higher than those of high school students in general, as are their overall graduation and job-placement rates. {Consolidated Annual Report U.S. Department of Education OVAE, 2017}
Achievement Statistics Fly in the Face of Stereotypes

click here
http://www.usatoday.com/story/money/business/2014/11/12/high-schools-teach-manufacturing-skills/17805483/
http://www.usatoday.com/story/news/nation/2014/09/30/job-economy-middle-skill-growth-wage-blue-collar/14797413/
http://journalstar.com/news/local/education/with-tech-schools-numbers-fly-in-the-face-of-stereotypes/article_de0be701-aa0f-5d21-a714-ba67c95c088f.html?utm_source=From+the+Director%3A+Nebraska&utm_campaign=Nebraska&utm_medium=email