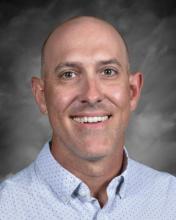 About Me
Educational Background:
High School: Tomball High School (Tomball, TX)
Bachelors Degree: Louisiana State University (Baton Rouge, LA) (Secondary Education Certified in Math)
Masters Degree: University of Northern Colorado (Greeley, CO) (Sports Administration)
Biographical Sketch:
I grew up in Tomball, Texas just outside of Houston in a family of educators. My mother, father, and oldest brother were all coaches, teachers, or administrators at some point in time. I attended Louisiana State University where I tried as hard as possible to break the family mold and find a career other than education that would make more money. In the end, thankfully, doing what would make me happy became my priority and coaching/teaching won out.
I didn't want to start teaching right out of college...so I moved to Colorado to play. I lived in Buena Vista as a whitewater rafting guide in the summers and Silverthorne as a snowboard instructor at Copper Mountain in the winters. After a couple of years it was time to get a "real job" so I moved to Denver and began teaching math at Jefferson High School. One year into teaching I realized I needed to get a masters degree if I was going to stay in education long term. I moved to Fort Collins and attended UNC where I gained my masters in Sports Administration. I loved living in Fort Collins so I stayed to teach and got my first job in the district at Boltz Junior High in 2006. I taught 2 years at Boltz while coaching football at Poudre so when a math position opened at Poudre for the 2008 school year I made the switch to the high school level. I taught math for 3 years here before making a highly non-traditional decision.
My wife, Taylor, and I decided to leave our jobs for a year and travel the world. We visited 26 countries in 6 different continents as we moved around the world crossing off item after item on our bucket list. It was truly the trip of a lifetime.
Coming back to Poudre in 2012 I was able to slide right back into my old position and I've been here ever since. Taylor and I have started a family as we now have three little boys Kepler, Crew, and Lincoln who are awesome kids and blast to be around.
Favorite Quote:
"All around you, people will be tiptoeing through life, just to arrive at death safely. But dear children, do not tiptoe. Run, hop, skip, or dance...just don't tiptoe."
Irresistible Revolution