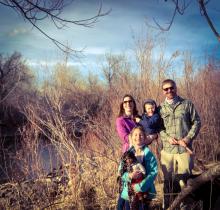 Room Number
Block 1 101
Blocks 2 and 4 104A
About Me
I am so excited to start my 16th year in education as a Poudre Impala! Born and raised around the Front Range, I earned my bachelor's degree in Education at Colorado State University and am still proud to be a CSU RAM! I was lucky to begin my career teaching Family and Consumer Science in Greeley and spent my entire 15 years prior to this at the same school. In that time, in addition to my love the for real world skills taught in FCS classes, I fell in love with working with Language Learners and earned my master's degree in Linguistically Diverse Education at the University of Northern Colorado.
My husband (who is teaching at a school that shall not be named) and I have loved Fort Collins and, after moving away seven years ago, decided it was time to bring our family back to the community we love! I spend most of my time hugging my cute kids, reading, cooking, EATING and enjoying all of the open spaces in and around Fort Collins.
This year I will be teaching Culinary Nutrition, Life Management and Freshman Seminar.