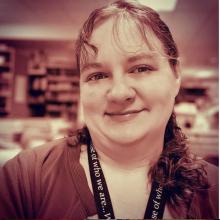 About Me
I have worked in the PHS Library for the last 14 years. I am a Poudre High School alumn class of 08. Once an Impala always an Impala. I absolutely love working with books and finding books for students to read.
I am very passionate about reading. I am never without a book. I love to read and travel to new places. Being able to find a book for a student who does not like to read fills me with so much joy.
If you ever need a good book recommendation please come find me in the PHS Library. My role also involves keeping track of all textbooks and class novels and helping both students and staff get the textbooks that they need.
I love being a PHS Impala. I am a recipient of the Impala Award Winner September 2015 and May of 2013 and ACE Employee of the year nominee 2019.
"I am who I am because of who we are. We are Poudre Impalas."
Favorite Quote: