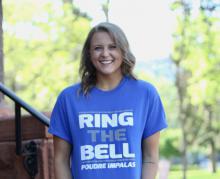 About Me
I was born and raised in Littleton, Colorado to a family of teachers. Growing up, science was always the subject that intrigued me the most. As an adult, I continue to have a passion for the way the human body moves and works. One of my favorite quotes is that "the human body is the only machine that grows stronger when subjected to a force that it can't handle" -anonymous. I have one adorable fur baby - a Bernese Mountain Dog named Mack. I enjoy spending time under both Denver city lights and mountain stars. Hiking, camping, travel, and volleyball are just a few of my favorite hobbies that I've collected over the years.
Educational Background:
I attended Heritage High School in Littleton, Colorado where I graduated in 2014. I began my undergraduate career at Colorado State University studying Equine Science before realizing that horses were better left as my passion, not my career. I transferred schools and began classes at Metropolitan State University of Denver. From there I graduated in 2018 with my Bachelor's degree in Biology with a Minor in Nutrition and a concentration in Anatomy and Physiology. After years of denying that I was meant to be a teacher, I began a master's program from which I graduated in May 2021 with my Master's in Secondary Education. I could not be more excited to spend my first year teaching at PHS!