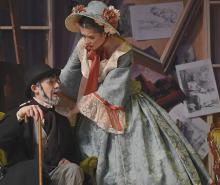 This past weekend, Colorado Thespians held their annual festival, and several PHS Thespians did us proud!
Marissa Trujillo – Excellent – Solo Musical Theatre
Emily Rosen – Excellent – Solo Acting/Monologues
Addie Kuehn – Excellent – Solo Musical Theatre
Alida Kress – Winner – CO Thespians Jay Sellers Scholarship - Technical Theatre
Note: There are only 3 scholarships given out by CO Thespians: 1 for acting, 1 for musical theatre, and 1 for technical theatre. Lida won that last one out of hundreds applicants across the state for her amazing costuming and tech theatre work over the last 4 years!
As you can imagine, the performing arts have been particularly hard hit by this pandemic; it's been 10 months of mostly cancelling everything. And even with hope on the horizon, live performance will be one of the last things to return. So it's really nice to be able to report some good news!