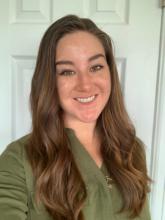 About Me
Educational Background:
BA in English Education from CSU
BA in French Lit and Lang from CSU
Biographical Sketch:
Welcome everyone!
Most of my students call me Mrs. B. I was born and raised in Colorado and attended CSU for my undergrad. After that, I moved to Mexico City, Mexico and taught in a private Jewish school for two years before moving to Istanbul, Turkey and teaching in a private school there for another two years. After four years abroad, I decided it was time to come home. I got a job teaching middle school in Greeley, and now I'm very proud and excited to be an impala at Poudre!
I enjoy spending quality time with my family, friends, all dogs, and a good book!