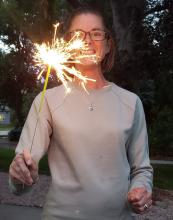 About Me
Educational Background:
In 2005 I earned a Bachelors of Science from the University of Denver in Ecology & Biodiversity with minors in Chemistry & Italian. In 2017 I earned a Masters of Arts in Secondary Science Education from Regis University. I am currently working on a Masters of Biology from the University of Northern Colorado which I will finish summer of 2021.
Biographical Sketch:
I am originally from Charlottesville, Virginia. I moved out to Colorado in 2001 to attend the University of Denver. I have two kids, 9 & 11, who keep me very busy and crazed, but are the joy of my life. I am passonate about science and participate in at least two citizen science projects every summer. I am an competitive distance runner, amateur gardner and reader.