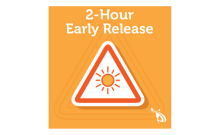 You may have seen the email from the district regarding the 2-hour early release this Wednesday and Thursday, Sept. 7th and 8th.  Please see our PHS class schedule for those days.
•    No Late Start on Wednesday, Sept.7, 2022.  Class begins at 9:05 am.
•    Practices and any extra-curricular activities will need to move to the morning or after 6:30 pm.  Your coach/advisor will communicate their plan.
•    Students who ride the bus home will still do so; their routes will arrive at stops two hours earlier on Wed, Sept. 7 and Thurs, Sept. 8, 2022. 
•    School will resume 9:05 - 4:10 pm on Friday, Sept. 9, 2022.