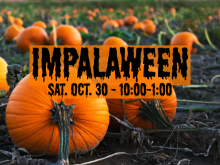 Impalaween 2021
Saturday, October 30 10:00am -1:00pm
Outside of the PHS Main Entrance
PHS Student Council proudly presents a new version of the long-running Poudre tradition of Impalaween! In years past it has been trick-or-treat style indoors. We are moving it outside and doing more of a carnival/festival.
There will be tables hosted by various PHS clubs/sports that will be dressed up, giving away candy and hosting various carnival games. Children will be able to go table to table trick-or-treating and play a wide variety of games! This is a FREE event and the Poudre Food Truck will be there with food available to purchase.
There is also a matinee showing of PHS Theatre's Little Mermaid that afternoon as well. Before the show and immediately after Impalaween, they are hosting an 'Under the Sea Tea Party' where children can meet the cast, get a picture and have a light refreshment with them before the Saturday showing.