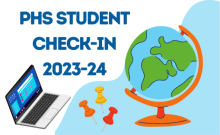 Welcome to the 2023-24 school year!

PHS fall check-in for freshmen and sophomores is Wednesday, August 9 and for juniors and seniors is Thursday, August 10. Check-in will include school pictures, locker assignments, parking passes, picking up laptops and paying for any fees for the school year.

Check-in is at PHS each day 9 am - 4 pm. We will break for lunch and be closed 12 - 1 pm.

Grades 9, 10 - Wednesday, August 9.

Grades 11, 12 - Thursday, August 10.

School Pictures -

will be taken by Studio 5 for the yearbook and their student ID. Seniors will have the option to submit a senior picture to the yearbook. Information will be sent in a later email. To order school pictures, go to studio5portraits.preorderphotos.com and use Access Code: K69DR7. Pictures may be ordered online up to 3 days after picture day. All photos will be mailed directly home. Studio 5 can be reached at (970) 674-0520. Studio 5 Order Form

Locker Assignments -

students have the option to check out a locker.

Parking Permits -

one permit is assigned per student and shall remain with the student from year to year while attending PHS. Students will need to bring a valid driver's license and insurance card. They will also need to provide a plate number, make, model, color and year of the vehicle.

Laptops - students will be issued a laptop and will log in with their PSD credentials to make sure their device is working properly.

Fees -

athletic fees and class contributions can be paid at our fee window or online with SchoolPay https://www.schoolpay.com/

PHS Activity Pass -

students can purchase an activity pass for $30, which gets them into all home sporting events and cross-town rival events. If you're able to access SchoolPay and pay for the activity pass before check-in, it will be printed on their student ID.

For further information, please email Kendall Wilson at kendallw@psdschools.org or call us at (970) 488-6000 and press 7.