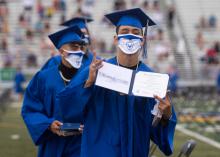 Date/Time
Friday, May 21, 2021 at 9:00am
Location
French Field at Rocky Mountain High School
Guests
Graduates are allowed ten (10) guests. Tickets will be given to Seniors when they complete the checkout process and receive their cap and gown on Tuesday May 18th and Wednesday May 19th during lunch or on Thursday May 20th before senior Convocation. Seating has been randomly assigned; requests for seating preference cannot be taken. Guests are asked to sit in the same area indicated on the ticket, but social distancing is no longer required by public health officials at outdoor events.
Parking
Each graduate and their guests are asked to arrive in one vehicle, due to limited parking availability.
You will need your ticket to enter the parking lot. Please park in the school's east lot. Personnel will be on-site to direct traffic. If your guests arrive in more than one vehicle, you must find parking for your additional vehicle(s) off school property and walk to the field. Additional vehicles may NOT park at any of Rocky's lots. There will be a drop-off area at the bus circle for members of your party who need assistance.
Watch Live on YouTube
English: https://youtu.be/7Sj5vOKosmo
Español: https://youtu.be/HjEszDD3O_Q
Please contact Nick Holley (970)488-6018 nholley@psdschools.org for any questions.