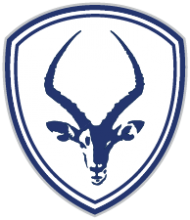 All students can be Opted Out of State Testing such as CMAS, PSAT/SAT, and alternate state testing, in the Poudre School District. This guide will show you how to do this from your ParentVUE account. For more information on the policy and guidelines behind this, please click here.
Note: Grade default participation for 2021-2022: 
Grades 3,4,6,7: CMAS/DLM ELA and Math
Grades 5, 8: CMAS/DLM ELA and Math, CMAS/CoAlt Science
Grades 9, 10: PSAT/DLM
Grade 11: SAT/DLM, CMAS/CoAlt Science
1. Log in to ParentVUE.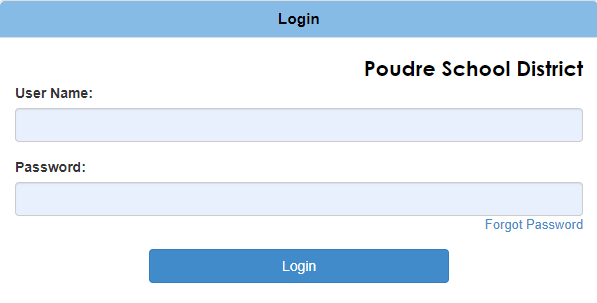 2. Click on "PSD Forms and Applications" button on the main menu to the left.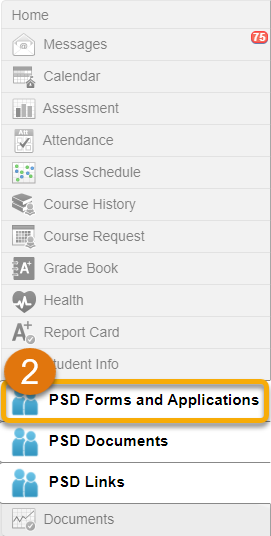 3. Click the "Services Tracker" link.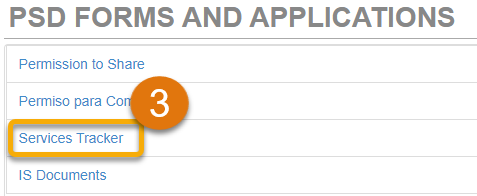 4. You will see your name in the upper-right corner letting you know you are logged in with your ParentVUE account (A). Choose the child you wish to Opt Out for (B).

5. Click the "Assessment" link under your child.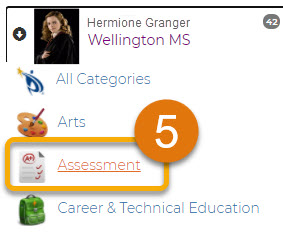 6. Click the link for CMAS/DLM/CoAlt/PSAT/SAT Assessment Opt Out.

7. Scroll down to the bottom of the new screen until you see the "Parent/Guardian Response" section (A). Select which assessments you want to Opt Out of by selecting 'Yes' for each (B).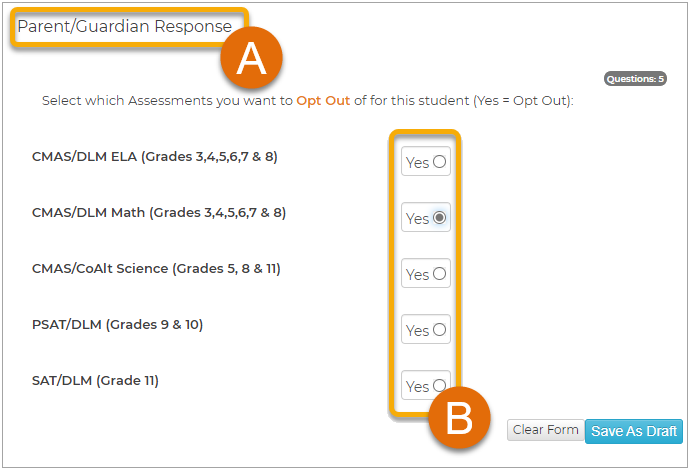 8. Type your name in the field (A), making sure to spell it as it is shown below the box (!), then click the green "Sign" button (B).

Tip: Need a printed form instead?  Scroll up a bit and click the "State Testing Opt Out Form" in your preferred language. 
 
9. Click the button for the "Opt Out" Button. 

10. Click the "Ok" button to confirm your choice. 

11. You're all set! If you would like to Opt back in for any of the state Assessments you have previously opted out of, go through the previous steps and select the "Opt In" button at the end of the process. You will not see or need to fill in the questions part. You can then repeat the Opt Out process if required.
If you have any further questions, please reach out to the school.