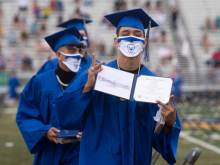 PHS Seniors!!!
Graduation is in sight and we are getting excited to celebrate your incredible accomplishment! Each senior selects a staff member to hand them their diploma at graduation. Since staff members are limited to only hand out 5 diplomas, we ask that you provide us with your top 3 choices. Please tell us why you selected this staff member. We will share your words with the staff member as way to thank them for their support during your high school experience.
Please use this link to submit your staff member requests to hand you your diploma at graduation.
https://forms.gle/zpFvXvcDvLviFbpV8
We hope second semester is off to a great start and we can't wait for you to return to the building!
Proud to be a Poudre Impala!