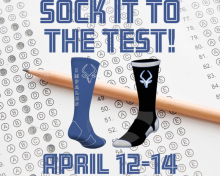 Impalas, pop on your BEST Poudre socks – and come SOCK IT TO THE TEST!  
2023 PHS Testing is April 12-April 14
All testing begins at 9:05am each day (full schedules below)
Wednesday, April 12 - 11th Grade SAT
Friday, April 14 - 9th Grade PSAT & 11th Grade CMAS Science
More information & opt out information can be found on the PHS Assesment Website
Students who are testing during these mornings will be the only students in the building.  All other grade levels begin each day at lunch or period 1.  Buses will run a second route to pick up students who are not testing to bring them to school on April 12, 13, and 14.  All return home route times will remain the same.  
Makeup test dates:  SAT makeup is Tues, April 25 , PSAT 10 makeup is Wed, April 26 , PSAT 9 makeup is Thurs, April 27