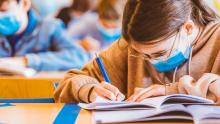 The following is the plan/schedule from Poudre School District regarding students returning to in-person at PHS.
NOTE: this plan is subject to change and PSD is prepared to shift among phases throughout the year, as required or permitted by health officials and conditions.
Jan. 19-22: PHS is in Phase 1 - Fully Remote
Jan. 25-29: PHS begins Phase 3 (A group attends Monday/Wednesday; B group attends Tuesday/Thursday; remote learning for students on Friday)
Phase changes beyond the week of Jan. 25-29 will be communicated by PSD and will be updated on this site.
For more information and PSD's plan for grades PreK-12, please visit the PSD Homepage at: https://www.psdschools.org/