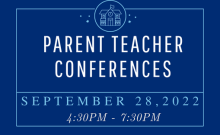 Parent Teacher Conferences
Wednesday September 28th, 4:30pm - 7:30PM
These conferences provide parents and guardians one-on-one time with teachers to discuss their student's successes and challenges in a class, as well as opportunities for support.
All teachers will have a table either in the small gym or the cafeteria. Attached is a map and key for your reference. It is helpful to save these documents so that you can pull them electronically this Wednesday.
When you arrive, please use your student's schedule to determine the teachers to meet. There may be a line. Please be patient; they will move quickly as each conference is limited to 5 minutes. We have time limits to ensure everyone has an opportunity to meet with the teacher. For conversations that require more time, we ask that you and the teacher schedule a different time to meet, whether it's virtually or in person, over the phone or by email.
A friendly reminder, you can access your student's classes on ParentVue before. It helps to do register with ParentVue before you arrive. The other option to access your student's schedule is to have your student text you a copy of their schedule or a list of the names of their teachers and the subject they teach.
We will have family liaisons present to provide language interpretation and support. We look forward to seeing you at our Fall Conferences!