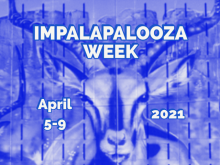 Impalapalooza Week is April 5th-9th!!
It's time again for our annual spring tradition when we celebrate all things POUDRE!
Monday, April 5
PHS SPIRIT DAY
Rep your Poudre gear and Poudre colors!
EVENT - Movie Night!
Come see Maleficent or Beauty and the Beast in the small gym
Movie starts at 7:30pm!
FREE
Concessions available for purchase
Tuesday, April 6
SPIRIT DAY - Teacher/Student Swap Day
Students dress up as a teacher and teachers dress up as students!
EVENT - Day of Gratitude
A day for us to all show gratitude for each other.
During Lunch in flag hallway:
Grab a note to write on and give to another Impala (staff and students)
Grab a sticky note, write what you are grateful for and put on our tree in the flag hallway
Wednesday, April 7
SPIRIT DAY - Comfy Day!
Wear the clothes you feel most comfortable in!
EVENT - Mr. PHS
2 showings! 5-7 pm or 8-10 pm in the Main Gym!
A hilarious male beauty pageant where seniors compete and represent their different sports and clubs.
All while raising money for local non profits and Poudre Theatre!
*Limited tickets available during lunch in flag hallway - $10 each*
Thursday, April 8
SPIRIT DAY- 1920's vs. 2020's!
Choose your century! Dress as if you're from either the 1920s or the 2020s! Or, combine the two!
EVENT - Grab and Go Food Day!
We will have cookies for you to take home after school!
Get them at the Main Entrance or Commons

Friday, April 9
SPIRIT DAY - Plain White T-Shirt!
Wear white clothes that can get colorful while doing chalk art at lunch! Then return to 3rd period covered in colors!
EVENTS - Chalk Party!!
During lunch - main entrance
All chalk provided!
Friday Night Restaurant Fundraiser! Fort Collins Donut Company (FoCo DoCo)
From 7am to 7pm 50% of ALL proceeds go to PHS!
234 N. College Ave (The Exchange in North Old Town)