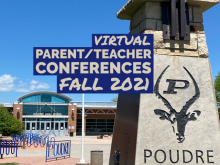 Wednesday, October 6th, 4:30-8:00pm
Parents/Guardians can sign up for a 5-minute time slot through MS Teams Bookings. When signing up, it will provide a confirmation to parents/guardians and a link to join the MS Teams meeting on October 6th.
• Use this link to sign-up for a time slot for each of your student's teachers: https://bit.ly/2WmhaPz
• If you need help signing up for time slots and accessing the conference on the night of Oct. 6, please watch this help video: https://youtu.be/U5HTOchwef4
• Five minutes can go fast! If you need more than 5 minutes to talk with a teacher, please schedule another additional time outside of Conferences to respect other families.
• Some teachers will not be available at the time you want, please reach out directly to those teachers to set up a time to talk that works.
• This is our first time trying this, so we appreciate your patience and flexibility as we all continue to adapt to our current situation. With any technology, we anticipate there may be glitches. If something happens with a conference and you don't get to talk to the teacher, please email the teacher directly to set something up. We apologize in advance for the any issues you may experience.