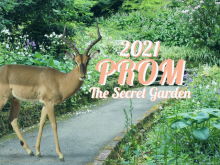 Prom 2021 The Secret Garden
Saturday, May 1, 2021
7:00-10:00pm at Poudre High School
Each senior will be guaranteed a ticket (for free!!) but you need to register during lunches in the flag hallway. Seniors can bring one guest (11th, 10th, or 9th grade PHS student).
Juniors can attend but must register during lunch in the flag hallway.
Only PHS students will be allowed to attend.
All high schools will host their Prom May 1, so make reservations for dinner and attire ASAP!
MASKS Required!
Fire pits, smores, and outdoor movie! Games in the gym!
If Prom needs to be reschedule due to weather, it will occur on Saturday, May 8.